SWAN Multi-Pollutant Study
The SWAN Multi-Pollutant Study (MPS) was initiated in 2016 to examine health effects of multiple environmental chemical exposures, including perfluoroalkyl and polyfluoroalkyl substances (PFAS), polychlorinated biphenyls (PCBs), organochlorine pesticides, polybrominated diphenyl ethers (PBDEs), metals, phenols, phthalates, and organophosphate pesticide among midlife women. Funded through two R01 grants by the National Institute of Environmental Health and Sciences (NIEHS), the SWAN MPS specifically investigates 1) obesity, type-2 diabetes and related metabolic endpoints (R01 ES026578); and 2) reproductive health including sex steroid hormones, age at menopause and ovarian aging (R01 ES026964).
Key Personnel
Sung Kyun Park, Principal Investigator
Sioban D. Harlow, Co-Investigator
Carrie Karvonen-Gutierrez, Co-Investigator
Bhramar Mukherjee, Co-Investigator
Stuart Batterman, Co-Investigator
John F. Randolph Jr, Co-Investigator
William (Bill) H. Herman, Co-Investigator
Ellen Gold, Consultant
Trainees
Ning Ding, Postdoctoral Research Fellow
Xin Wang, Postdoctoral Research Fellow
Seulbi Lee, Postdoctoral Research Fellow
Mia Peng, PhD student
Amelia Grant-Alfieri, PhD student
Emily Zheutlin, MS student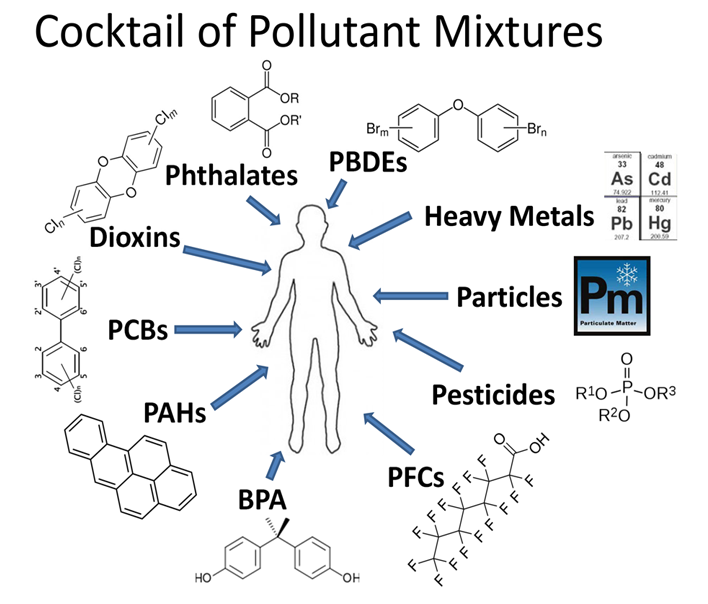 News
These are the most recent news items for the SWAN Multi-Pollutant Study. View all Center news.
FEATURED PUBLICATION: "Phthalates and Incident Diabetes in Midlife Women: The Study of Women's Health Across the Nation (SWAN)" with lead author and former Center Doctoral Student Mia Q. Peng, PhD, MPH

Featured Publication of the Week for the Journal of Clinical Endocrinology & Metabolism (August 2023), with lead author and former Center Doctoral Student Mia Q. Peng, PhD, MPH; additional authors include Center co-director Carrie A. Karvonen-Gutierrez, PhD, MPH, Center Core Faculty member Sung Kyun Park, ScD, MPH and Center Affiliate Faculty William H. Herman, MD, MPH.

Read more at Journal of Clinical Endocrinology & Metabolism
Posted: August 09 2023

FEATURED PUBLICATION: "Associations Between Repeated Measures of Urinary Phthalate Metabolites With Hormones and Timing of Natural Menopause" with lead author and former Center Postdoctoral Research Fellow Ning Ding, PhD, MPH

Featured Publication of the Week for the Journal of the Endocrine Society (April 2023), with lead author and former Center Postdoctoral Research Fellow Ning Ding, PhD, MPH; additional authors include Center Director Siobán D. Harlow, PhD, and Center Core Faculty members John F. Randolph, MD and Sung Kyun Park, ScD, MPH.

Read more at Journal of the Endocrine Society
Posted: April 21 2023

IN THE NEWS: Findings from SWAN Multi-Pollutant Study featured in "'Forever chemicals' up type 2 diabetes risk in midlife White women" with lead author and former Center Doctoral Student Mia Q. Peng

"Overall, our study has added some evidence to support the potential diabetogenic effects of phthalates, but it also highlights that much is still unknown about the metabolic effects of these chemicals. The apparent racial/ethnic differences in the associations between phthalates and incident diabetes should be investigated in future studies."

Additional authors include Center Co-Director Carrie Karvonen-Gutierrez, Center Affiliate Faculty William Herman and Center Core Faculty Sung Kyun Park.

Read more at mdedge.com
Posted: February 16 2023

IN THE NEWS: "Air pollution tips the scale for obesity in women" in Michigan News, with comments from Center Core Faculty Xin Wang, PhD, MPH

Women in their late 40s and early 50s exposed long-term to air pollution—specifically, higher levels of fine particles, nitrogen dioxide and ozone—saw increases in their body size and composition measures, said Xin Wang, epidemiology research investigator at the U-M School of Public Health and the study's first author.

Read more at news.umich.edu
Posted: October 18 2022

IN THE NEWS: "'Forever chemicals' linked to high blood pressure in women" in the Washington Post, with comments from Center Postdoctoral Research Fellow Ning Ding, PhD, MPH

"Women seem to be particularly vulnerable when exposed to these chemicals," said Ning Ding, research fellow in epidemiology, whose research found a link between PFAS (per- and polyfluoroalkyl substances) and high blood pressure in middle-aged women — adding to the long list of health risks associated with the man-made pollutants.

Read more at washingtonpost.com
Posted: June 22 2022

WEBINAR: "Endocrine Disrupting Chemicals and Maternal Reproductive Health Impacts"; discussion with Center Postdoctoral Research Fellow Ning Ding, PhD, MPH, Julia Varshavsky, PhD, MPH, and Sverre Wikström, MD, PhD

Menopause marks the cessation of ovarian function, and its timing has physiologic impacts beyond the reproductive system, affecting women's overall health. PFAS may play an important role in the process of reproductive aging, but the research is limited. Dr. Ning Ding investigated the impact of these chemicals on ovarian aging using data from the Study of Women's Health Across the Nation (SWAN) as part of her dissertation work. Dr. Ding will present data on women's exposure to PFAS and their associations with menopausal timing. Her research findings suggest that PFAS exposure may cause earlier natural menopause and accelerated ovarian aging.

Read more at healthandenvironment.org
Posted: April 16 2021

IN THE NEWS: "Toxic Heavy Metals Found in Some Baby Food, Congressional Report Says" in the Wall Street Journal; interview with Core Faculty Sung Kyun Park, ScD, MPH

"These numbers are striking. If children are getting served this every day, the cumulative effects could be substantial," said Sung Kyun Park, associate professor of epidemiology and environmental health sciences, commenting on a congressional report that found high levels of toxic metals in several top baby food brands.

Read more at the Wall Street Journal
Posted: February 09 2021

IN THE NEWS: "PFAS exposure may lead to early menopause in women"; interview with Center Postdoctoral Research Fellow Ning Ding and Core Faculty Sung Kyun Park, ScD, MPH

"PFAS are everywhere. Once they enter the body, they don't break down and build up over time," said lead author Ning Ding , who conducted the study as a doctoral candidate at U-M's School of Public Health and is now a postdoctoral researcher at U-M. "Because of their persistence in humans and potentially detrimental effects on ovarian function, it is important to raise awareness of this issue and reduce exposure to these chemicals."

Read more at news.umich.edu
Posted: September 03 2020